Izmir Rental Mercedes Vito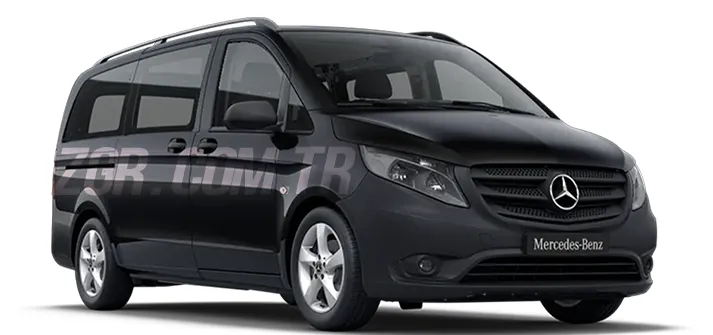 Welcome to ZGR Rent a Car Mercedes Vito Kiralama, the most reliable and correct address to benefit from Izmir airport Vito Rental service. With our first-class vehicles and exceptional customer service, we ensure that you have a smooth and hassle-free experience. Whether you are visiting Izmir for business or for a holiday, our Mercedes Vito rental service is the perfect choice for you. When it comes to Izmir Mercedes Vito Rental, we are unbeatable. Our Vito vehicle fleet is well maintained, stylish and equipped with the latest technology and gives you a comfortable and luxurious journey. We understand the importance of reliability and punctuality, so we try to offer our services with the highest level of professionalism. We offer flexible rental options to meet your special needs at Mercedes Vito Airport Izmir. Whether you need a car for a few hours or for a longer stay, we have the perfect rental plan for you. Our online booking system is user-friendly and allows you to easily rent the Mercedes Vito you want. Rent a car with us Vito Rental Izmir and enjoy the freedom to explore Izmir at your own pace. Whether you want to visit historical sites, relax on the beautiful beaches, or experience the lively nightlife, our Mercedes Vito rental service will ensure that you have an unforgettable and enjoyable time in Izmir. Trust Izmir airport Vito Rental experts to provide you with a reliable, efficient and comfortable transportation solution. Make your Mercedes Vito rental reservation today and experience the luxury and convenience of traveling in style.
Izmir Mercedes Vito Rental
Vip car rental izmir
When it comes to travel, transportation plays an important role in providing a complex and enjoyable experience. Izmir, Turkey, Izmir airport is a popular entry point for both domestic and international passengers. Izmir airport car rental services are an excellent choice for those who are looking for restrictions and kidnappings in their transportation. One of the most sought-after options in Izmir is the Mercedes Vito, a versatile and stylish minivan that appeals to both individual and group service. Izmir Mercedes Vito Rental offers the opportunity to rent a Mercedes Vito directly at Izmir airport. This comes in the sense that you can get off the plane as soon as you arrive and get on your own luxurious and comfortable uses. Acclaimed for its extensive internal consumption, the Mercedes Vito is the ideal controller for growing it, group trips and even October business trips where additional space is required for luggage or equipment. Whether you are traveling with a small group or with a larger group, Izmir airport offers a number of options suitable for minibus car rental features. The Mercedes Vito, which can accommodate up to seven passengers, is an ideal choice for those traveling with family or friends. With the flexible seating arrangement and wide knee length, everyone can sit back, relax and enjoy the journey. Izmir airport car rental services also provide you with the highest level of comfort and convenience by offering the option of renting a Mercedes Vito with a driver. Whether you are a stranger in the area, prefer to sit back and relax, or just want to take advantage of the hassle of navigating unfamiliar roads, a professional driver can meet all your transportation needs. For those who prefer to take their own cars, Izmir Mercedes Vito Rental company offers self-build options that allow you to explore Izmir and its surroundings at your own pace. The Mercedes Vito's powerful engine, smooth handling and advanced safety features ensure a comfortable and safe residential experience. When it comes to pricing, Mercedes Vito Rental Izmir airport car rental determines October car rental prices depending on factors such as rental duration, rental type (with or without driver), additional services requested or features. We recommend that you book your shipping pass directly with the car rental company or visit their website to make a reservation and price flight information. As a result, Izmir Mercedes Vito Rental services offers a convenient and luxurious way to rent in Izmir and its surroundings. Whether you are traveling with tourists, on your travels or on business routes, the versatility and comfort of the Mercedes Vito make it an ideal choice for travelers of all types. With options including self-ownership or driver, you can tailor your rental experience to suit yourself. Therefore, consider renting a Mercedes Vito on your next visit to Izmir and make your trip unforgettable.
If you want to explore the beautiful Izmir city, we are with you with our first-class transportation services. We offer Izmir airport pick-up and drop-off, as well as car rental options suitable for your needs. Our Mercedes Vito rental cars are perfect for families or groups of friends who want to have a comfortable trip around the city. We also offer Vito rental options with minibus and driver for crowded groups or those who want to have a more luxurious experience. With our competitive prices and high-quality service, we are confident that we are the best Izmir Vito rental company out there. Choose us for all your transportation needs while visiting this beautiful city.
If you are looking for reliable transportation options in Izmir, look no further than our comprehensive range of services. We offer car rental and shuttle services at Izmir airport, as well as a variety of other vehicles, including the Mercedes Vito, which is perfect for families or groups. For more independence, choose one of the chauffeured options or self-driving options. Our fleet of Mercedes Vito Minivan and Panelvan is first class and we are proud of our commitment to customer satisfaction. Check out our competitive prices for Izmir minibus rental, Vito rental and Mercedes-Benz rental today!
If you are looking for reliable car rental services in Izmir, there is no need to look elsewhere. We offer a range of options, including Izmir airport pick-up, Mercedes Vito and minibus rental with or without a driver, and even family-sized vehicles. Our commitment to quality extends to our prices - we strive to make our services affordable for everyone. Therefore, if you need reliable transportation during your stay in Izmir, trust the best: us!
You can check the Availability and price information from the inquiry screen for up-to-date price information.
ABOUT THE VEHICLE
Izmir Mercedes Vito Rental
With ZGR Rent a Car - Mercedes Vito Rental, we provide Mercedes Vito car rental services at Izmir airport and city center. - The vehicle has a length of 5.140 mm and can accommodate up to 8 + 1 passengers. - Maximum load capacity is 4,800 kg, trailer load is 2,000 / 750 kg (with/without brakes). - with a volume of 6.0 m3 and a length of 2,831 mm, it provides a spacious loading area. - The vehicle is powered by high-starting, internally ventilated disc brakes with ABS (Anti-Lock Braking System), ASR (Anti-Skid Regulation), BAS (Brake Assist System), EBD (Electronic Brake Power Distribution) and other advanced braking features. features. October 2019 - Additional safety features include rain brake assist, hill start assist, strong wind stabilizer, fatigue effect, collision avoidance assist, immobilizer, excitable brake light that warns in sudden braking situations, front sway notes and Rear Cross Traffic Alert and blind spot assist. Dec.2019. - Additional safety features include rain brake assist, hill start assist, strong wind stabilizer, fatigue effect, collision avoidance assist, immobilizer, blind spot assist. . - The vehicle also has seat belts and airbags to ensure passenger travel. - In general, Mercedes Vito Rental offers a reliable and safe rental option for transportation needs in Izmir.
Within the scope of the service we offer;
1. Mercedes Vito Rental: Spacious and Comfortable Family Car Rental Service
2. Vito Rental For Comfortable Transportation at Izmir airport
3. Mercedes Vito Rental with VIP Service in Izmir
4. The Opportunity to Travel Freely with Vito Rental Without a Driver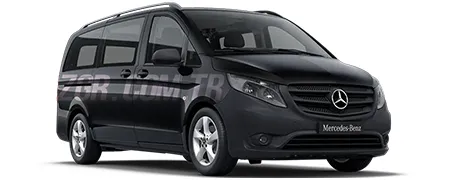 9 Person
6 Luggages
Van
Manual
Diesel
Rental Terms
Min. Driver Age: 26 - Driving License: 3 year(s)
3500 ¤ deposit is required for this vehicle.
MERCEDES BENZ VITO 8+1
KM Limit Limit is applied
Failure Help
7 Days / 24 Hours Support
HGS/OGS
Mobile Wifi Device
Total 3000Km Usage Payment
Unlimited Mileage
Vehicle Delivery to Address
Driver Personal Accident (For Driver)
GPS
Baby Chair (0-8 KG)
Child Seat 15-36kg
Tyre-Glass-Headlight Insurance
Full Insurance (No Exception) (SCDW)
Young Driver Service Pack
Extra Driver
Mini Damage Insurance