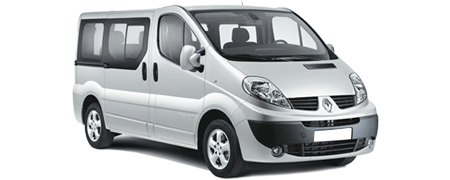 New Trafic Passenger
, large families and for commercial purposes has been designed for passenger cars in the comfort of a passenger car model.y Airport Traffic Generation more about the world by offering an array of comfort and safety features you want to go even further. Euro 4 compliant engines co-developed with Nissan with the arrival of Renault's new 2.0 dCi diesel engine range has resulted in an extensive renovation. In the passenger car segment, Renault Trafic, comes with two engine versions; 90hp (66kW) and 115hp (84kW); and extra performance, flexibility and fuel efficiency offers.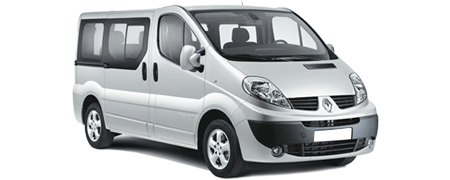 9 Person
5 Luggages
Van
Manual
Diesel
Rental Terms
Min. Driver Age: 26 - Driving License: 3 year(s)
4000 ¤ deposit is required for this vehicle.
RENAULT TRAFİC PASSENGER 8+1
KM Limit Limit is applied
Failure Help
7 Days / 24 Hours Support
HGS/OGS
Mobile Wifi Device
Total 3000Km Usage Payment
Unlimited Mileage
Vehicle Delivery to Address
Driver Personal Accident (For Driver)
GPS
Baby Chair (0-8 KG)
Child Seat 15-36kg
Tyre-Glass-Headlight Insurance
Full Insurance (No Exception) (SCDW)
Young Driver Service Pack
Extra Driver
Mini Damage Insurance