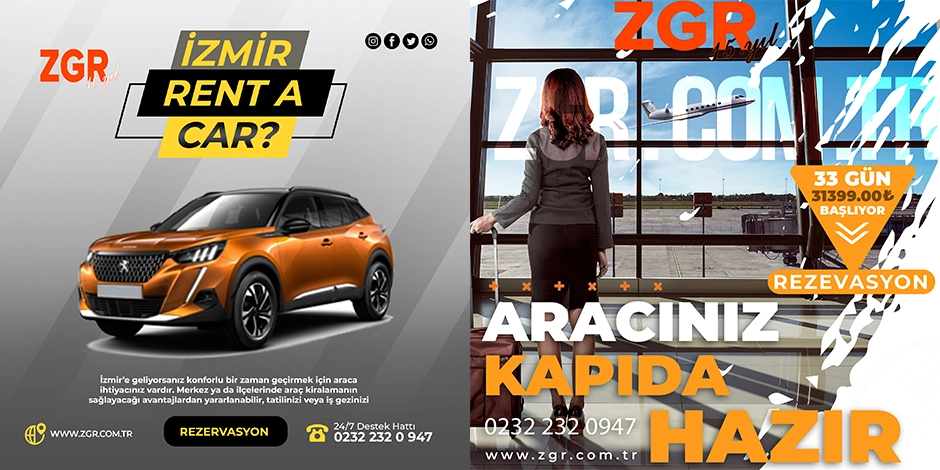 Izmir Rent A Car
Izmir is the pearl of the Aegean and one of the most special cities of our country. Thanks to the mild climate, it is possible to visit Izmir every season, to wander around the places to see, to spend a unique holiday. There are many beauties and historical monuments that should be seen both in the city center and in the districts.
Due to the fact that it is the third largest city of our country, Izmir is spread over a fairly wide area. For this reason, it may take hours to go from one address to another Decently between the central districts. It is a commercial city, university city, holiday city, etc. because of this, your way to Izmir can fall at any time of the year.
For whatever reason, if you are coming to Izmir for a short or long time, you need a car to spend a comfortable time. You can take advantage of the advantages that renting a car in the center or districts will provide, and you can make your vacation or business trip much more special. For this, you need to cooperate with the right company and choose the right vehicle.
Car Rental Companies
When making your car rental service, you need to pay attention to certain details. You may encounter many companies that say that they provide rental services in Izmir on this issue. However, it is not easy to be permanent and achieve success in the sector we are in. For this reason, you should make a choice that has met certain standards, experienced, experienced, customer-oriented.
As ZGR Rent a Car, we offer many privileges to those who want to rent a car. We can list some of them as follows:
* *Quick booking: When renting a car, the reservation must be created in the most practical way. You can easily fill in the required fields from our page and complete your transactions in seconds.
* *Fast delivery: Your car will be waiting for you at the time you specified after car rental reservations and you will not experience any victimization.
* *New generation vehicles: Rental preferences may vary depending on the individual. For this reason, vehicles with different features and equipment should be offered to the preference. Our company's fleet is renewed every year, and we have vehicles in segments such as middle, upper, luxury.
* *Reasonable price opportunity: We do not compromise on quality, and we always provide services at budget-friendly prices. Thus, we ensure that you have the vehicle you need without exhausting your budget.
• *24/7 support: You should always choose the companies where you can get support for renting. Our company provides support from the call center before and after the rental and provides the advantage of being able to reach you at any time.
Advantages of Renting a Car
Renting a car in Izmir is an extremely common practice. The possibilities, location and many other factors of our province ensure that the demand is high. Long-term or short-term rentals can be made, so you don't have to stay without a car.
If you wish, you can choose the rental method for your individual needs, or for your corporate needs. In any case, many advantages are waiting for you. We can materialize them as follows:
• *It takes a fortune to own a car in today's conditions. You will need to either withdraw a loan or deposit your savings into a car, or allocate a large amount from your corporate budget for the purchase of a car. However, with the rental method, you only pay the rental price for the period you use.
* *Owning a car brings with it many expenses throughout the year. Taxes, insurance, insurance, maintenance costs, etc. twice a year. when it is included, you need to continue to set aside a lot of money every month. However, you can get rid of them by renting a car, you just pay the rental price.
• *If you use the rental model instead of buying, you can change your vehicle when your rental agreement ends. Thus, you can experience many vehicle models on the market and go on the road with different brands and models.
• *When you get a car rental service from a good company, it brings your car to your door and you can make delivery from any point you want. Thus, you can create a comfort zone almost as if you have your own car at your door.
• *There is no limit on the rental period. You can make your contract for one week or six months, rent a car for years for your corporate needs, for days for your individual needs and meet your needs. If you want, you can travel in Izmir, in its districts, or in the surrounding provinces with the comfort of your personal vehicle.
• *There are airports in more than fifty cities of our country today. You can reach from one end of Turkey to the other in an hour by planes. You will also be able to rent a car and not stay without a car at the place you arrive. Moreover, you will not experience the fatigue and stress of long-distance roads. You can hop on a plane, land in Izmir whenever you want and find your vehicle ready when you land. * You will also deliver it at the airport when you return.
Izmir Adnan Menderes Airport
Izmir is also home to one of the largest airports in Turkey. Adnan Menderes Airport has been serving the region since November 17, 1987. Domestic and international flights are active at the airport, which is located 14 kilometers south of the city center, and thousands of people travel to other places by plane or come to Izmir from other places every day.
Izmir has a very high tourism potential and almost all its districts are home to a large number of beaches, historical monuments and natural beauties. For this reason, it is preferred by tourists at any time of the year, especially in the summer and spring months. If you wish, you can take advantage of airport car rental services, and when you arrive in Izmir, you can spend time in your heart without having a car.
When you arrive at the airport, it is enough to share your flight information with us during the booking in order to pick up the vehicle. After that, the vehicle you have chosen will be brought to the airport and will be ready when you land. Thus, you will not be left without a car in Izmir in any way.
When you leave Izmir, you will not search for an office to make a car delivery. If you share your flight information with us, our staff will pick up the vehicle at the airport at the appointment time. Thus, an effortless service is waiting for you.
Izmir airport is used not only by the people of Izmir, but also by the surrounding provinces. Those who come and go to the surrounding provinces, especially Aydın, Manisa, Denizli, also choose the airline. When you want to come to all these surrounding cities, you can also choose to rent a car, you can easily go to and from the airport to your jobs in all these cities.
Izmir Car Rental Process
One of the most curious issues in car rental applications is how long the rental will be made. The rental periods are completely according to the needs and preferences of the customers. if you are going to do a business trip for 1 day, you can make a one-day rental. Or if you are going to a nearby city and it will meet your single-day rental needs, you can make your choice in this direction.
If you are coming to Urla, Guzelbahce, Aliaga, Menemen, Karabakh, Alacati, Dikili, Cesme or other places for a week or ten days, you can rent during your vacation. If you have come to any seminar, congress, fair or any other organization, you can get services during your organization.
Similarly, you can also get corporate fleet rental service, you can make periodic or annual rental. You can meet the vehicle requirement of your institution that will last for months with the most suitable model and brand for your needs.
Hygiene in Car Rental Applications
Hygiene is always very important, but the virus that has affected the whole world in the last few years has required much more attention to hygiene. For this reason, it is necessary to carry out a deep cleaning of the vehicles to be rented.
It is also not enough to clean only the visible areas in the vehicles. At the same time, all surfaces should be cleaned from germs, viruses, bacteria with antibacterial applications. Otherwise, some diseases may spread. Diseases passed from person to person, from environment to environment, from person to environment can greatly affect your comfort of life.
In order to ensure hygiene in vehicles, each company can follow different standards. Therefore, you can ask the rental company at what intervals, by what methods they clean their vehicles, and find out if December cleaning and maintenance are done correctly. You can stay safe in vehicles where disinfectants suitable for human health and environmental health are used.
Izmir Car Rental Prices
You have the opportunity to rent a car of any model in Izmir. The important criterion here is your need and budget. Car rental costs may vary depending on the preferred vehicle class October, rental period, additional services.
There are vehicles of Fiat, Ford, BMW, Seat and many other different brands within our company. You can choose from many different types of vehicles such as automatic transmission, manual transmission, diesel, gasoline, B-class, C-class, SUV Dec. As a result of your needs and the information you will provide, our staff will send a clear price. Thanks to our large vehicle fleet and affordable price policy, it will be possible to make your choice.