Discounted Car Rental on Kurban Bayram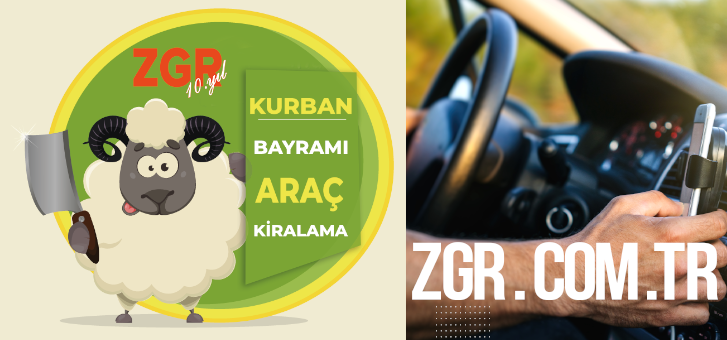 Eid al-Adha Car Rental
Sacrifice feast is approaching. The hustle and bustle of those who will go to their hometown on holiday started. Wouldn't you like to make your journeys with your rental car? Renting a car on Zira is both safe and cheap with ZGR. We are at your side with our high quality and experienced car rental services in Izmir for 10 years. You can rent the vehicle you need during the feast and facilitate your travels during the feast. Moreover, with our holiday special car rental tariffs, you can rent a car at more affordable prices with ZGR.
Our comfortable, state-of-the-art vehicles, where you can make pleasant journeys with your family and relatives, meet you at cheap prices. As always, the correct address for renting a car is ZGR Rent a Car. With our wide range of intermediate options, you will be able to make your festive journeys comfortably and with anyone you want. You can review our sacrifice car rental options in our catalog or you can get detailed information by contacting us.
COVID-19 Eid al-Adha
This year, the corona virus, which deeply affects our country as well as the whole world, leaves a question mark in the minds of everyone. Those who do not have a private vehicle are afraid to go on a feast journey as it is to carry out the feast journeys between public transportation such as buses and trains, and to face the risk of getting infected.
We are with you as ZGR with our car rental service in order to make your journeys comfortable and hygienic. We clean our vehicles privately after each rental and then meet them with new users. With the rental car, you will be able to travel on the feast away from the dangers of the corona virus. You do not need to be afraid of high costs with the special car rental fees that we will apply during the feast. As always, ZGR comes to you with opportunities that will satisfy you at the highest level. You can examine our vehicles from the page of our vehicle fleet, choose the most suitable vehicle for you, and get information about rental car holiday opportunities by reaching us at our contact numbers.
Discounted Car Rental on Kurban Bayram
We keep our customer satisfaction at the highest level by keeping the price performance always, and we continue our service with our high quality car rental options at affordable prices. With our opportunity vehicles, we further reduce the prices of our affordable vehicles, where you and your family will have a comfortable journey, and enable you to make your journeys happily during the holidays. The most reliable address for renting a car in İzmir is ZGR. Take advantage of our holiday car rental opportunities before the holiday is late.
Sacrifice feast with ZGR Rent a Car
We continue to offer our service that we have provided for years without sacrificing our quality with the assurance of our brand. With our experienced team, we are with you to fulfill your car rental needs during the sacrifice feast. Before the feast comes, learn about our opportunities and rent one of our comfortable, comfortable, quality tools. Rent the vehicle you want by getting detailed information about our tariffs without fear of high costs. With our high customer satisfaction that we have and registered, we can guarantee that you can make your festive travel safely and comfortably with ZGR.
Renting a car during Eid al-Adha
ZGR province offers privileged opportunities. With our wide range of vehicles, you can rent your desired vehicle and make your feast journeys. As a company that has proven ourselves in car rental in İzmir, we also provide you with safe service in car rental during the feast. You can come to the nearest one of our branches at 7 points in İzmir and get information about our festive opportunities and rent the most suitable vehicle for you. Or, if you want, we can bring your chosen vehicle to your door and deliver it ready for your festive journey. Renting a car is easy with ZGR Rent a Car. We hope you can have a happy holiday with our pocket price options and wish you a good holiday.