More profitable monthly car rental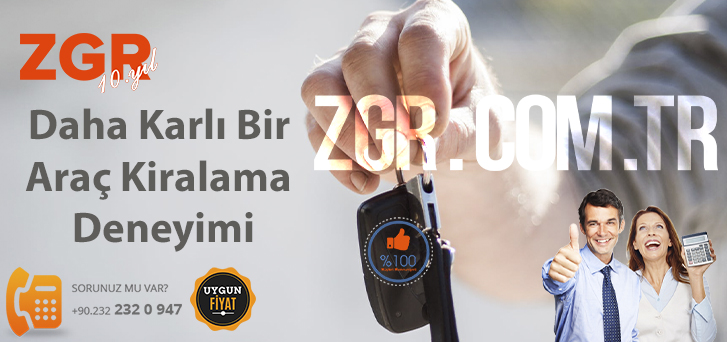 ZGR quality in monthly car rental!


As ZGR Rent a Car, we offer our İzmir monthly car rental services with our quality and assurance. We meet your long-term car rental needs with our vehicle variety and high price performance options. We provide you to buy the monthly vehicle you will rent at the cheapest price. We benefit from our monthly car rental services comfortably and with pleasure without compromising the liability of driving a car. Do not rent a monthly car in Izmir without meeting us.




ZGR monthly car rental for your long distance journeys


You may need a vehicle for your business trips, vacations, touristic trips, feast trips and all kinds of long-term and long-distance travel. If you do not have a vehicle provided by your own company or company, or want to travel with another vehicle, your choice should be ZGR. We continue to serve you by reinforcing our high customer satisfaction, which we have gained with our work-loving and experienced team, day by day. ZGR car rental is the right address for you to meet monthly car rental services in Izmir. You can choose the tools you want with the most suitable options for both your use and your pocket, you can see and try before renting.


ZGR quality in monthly car rental


As a company that has harmonized our name with quality in our industry and has adopted our quality and customer satisfaction as our mission, it is our duty to meet your vehicle needs and meet your travel and vehicle needs in a completely satisfied manner. We are always ready for your help with our 10 years of service history and experienced staff.




More profitable monthly car rental


Renting a car may not be appropriate in terms of price for users. As ZGR Rent a Car, we calculate the best prices for you in our monthly car rental options. We ensure your satisfaction by performing your travels in the lowest amounts. In addition, we are going to discount our car rental services within certain campaigns we offer. You can check our current campaigns on our Campaign page. You can get detailed information about our pricing from the chat channel at the bottom of the page, +90 (232) 332 0 947 or by contacting us through our other communication channels on our contact page.


ZGR support on the go


Thanks to the technological infrastructure we have and constantly improve, we can meet all your needs in a short time while renting your car and using your rented car. We can deliver any problems that may arise in your vehicle at any time and on the spot. You do not need to worry about the problems that may arise especially during your long journeys. ZGR Rent a Car is always with you during its service period.


Insured monthly car rental


With our insured vehicles we offer to your service, we guarantee your life safety at first. In addition, in case of any possible damage, we ensure that you can deliver the car you have rented with as little as possible. ZGR Rent a Car is behind you until the end of any damage that may arise, whether or not you are responsible for the vehicle you receive service. Do not be afraid of accidents and damages that may occur while renting a car. With ZGR Rent a Car, both your life and your pocket are safe.


ZGR Rent a Car quality in Izmir


ZGR car rental Izmir is the most reliable address for monthly car rental. Location with Turkey's ask us to hire the best deals on the most beautiful car of the beautiful Izmir with the leading names in the industry with advanced business and tourism. We continue to serve you by combining comfort, trust, economy and satisfaction with our wide vehicle spectrum. Especially since you will spend a long time with the vehicle you want to use in your monthly car rental needs, the features of your vehicle are very important for you. You can search every vehicle with the feature you want in the Vehicle Fleet section, find it by contacting us and see it on site.


Monthly car rental with driver


In addition, driving on long journeys and strenuous travel pace can give you extra fatigue. If you do not want to experience road fatigue while renting your monthly vehicle, your best choice is ZGR Rent a Car. You can examine the Transfer page on our site to overcome your long roads without getting tired and bored with our car rental options with driver.


Where's ZGR?


We are honored to host you in our 7 branches in İzmir by giving you detailed information about our services. If you wish, we can bring the vehicle you want to your door with our car rental option delivered to the address. You can find detailed information about our branches on the Locations page within our site. You can also review our drop-off locations outside of Izmir.


We provide you with detailed information about our İzmir monthly car rental services. We expect to have a tea in our branches to transfer in the province. You can also call us on our phone numbers for information throughout the day. The most reliable address for car rental is ZGR Rent a Car. You will not regret choosing us.